President Akufo-Addo in a handshake with Erna Solberg, Prime Minister of Norway
PRESIDENT NANA Addo Dankwa Akufo-Addo says even though his administration has laboured to improve the living conditions of Ghanaians over the past few years, he will not go on any platform and claim all is well with Ghanaians.
Addressing the Ghanaian community in Oslo, Norway, on Sunday evening, he said, "There is a lot of work we still have to do to bring Ghana up to where we want it to be. I am not going to stand here and say we have created paradise in these three years…I will never make that claim."
"I don't think there is any doubt that the problems of improving the conditions of the lives of our people are still out there," he added.
The journey so far
Commenting on the current situation, President Akufo-Addo said, "Looking at the legacy that we inherited, an economy that was going at its lowest for two decades, highly indebted country, strangling under debt in virtually all areas in the energy, educational and health sectors and our National Health Insurance Scheme which was a great legacy of President Kufuor, was virtually moribund. Our energy sector was equally compromised by heavy indebtedness which brought about the 'dumsor' phenomenon; even if you were not around, you heard about it. We had the phenomenon where 100,000 Ghanaians were dropping out of Junior High School every year and a sluggish economy, low wages, high inflation (15.3% when I took office)—is now 7.8% as we speak. So, we have virtually halved it. You had rates of interest of the commercial banks which were going from 30-32%. These are now 16-17%. The deficit we inherited, a fiscal deficit of 9.3% when I took office in 2017, is 4.5% as we speak now."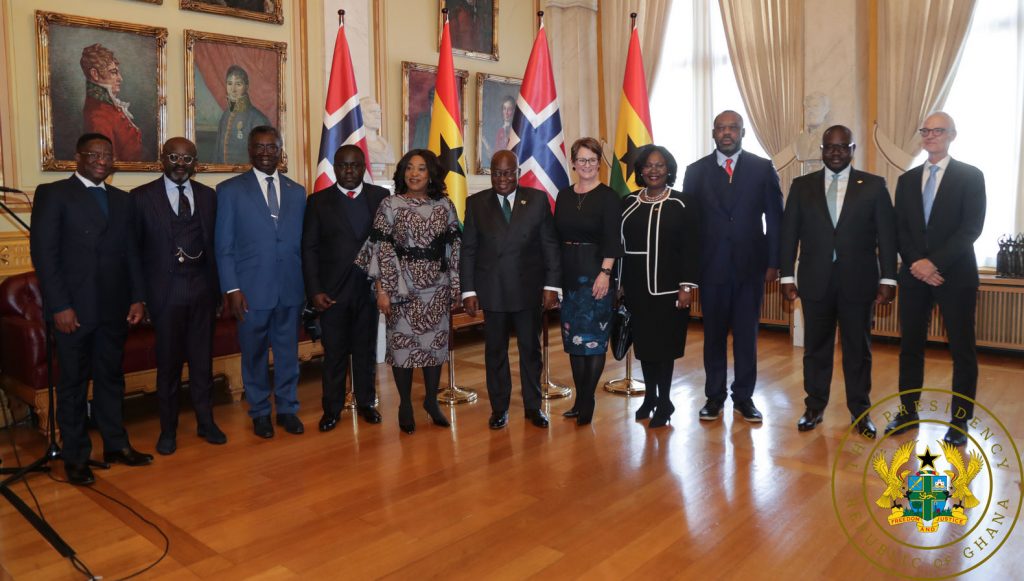 He said "all of these are the indications that the macro indices of our economy have now been put in a really sound place; so we are in the position now to make the big push for the investments that we want and an indication of what is ahead of us."
Investors delight
He said these were evidenced by recent oversubscription of Ghana's three billion dollars Eurobond in London to the tune of US$15 billion.  
Nana versus Mahama
Making comparisons, he said, "In 2016 when the Mahama government went to the market looking for bond money, they went and received the equivalent amount of money at 9.75% with the rate of the coupon," insisting "the one that we just issued is 6.35%."
That, he said, should give Ghanaians a clear idea the difference and the sense of confidence that the market had and how the economy was being managed.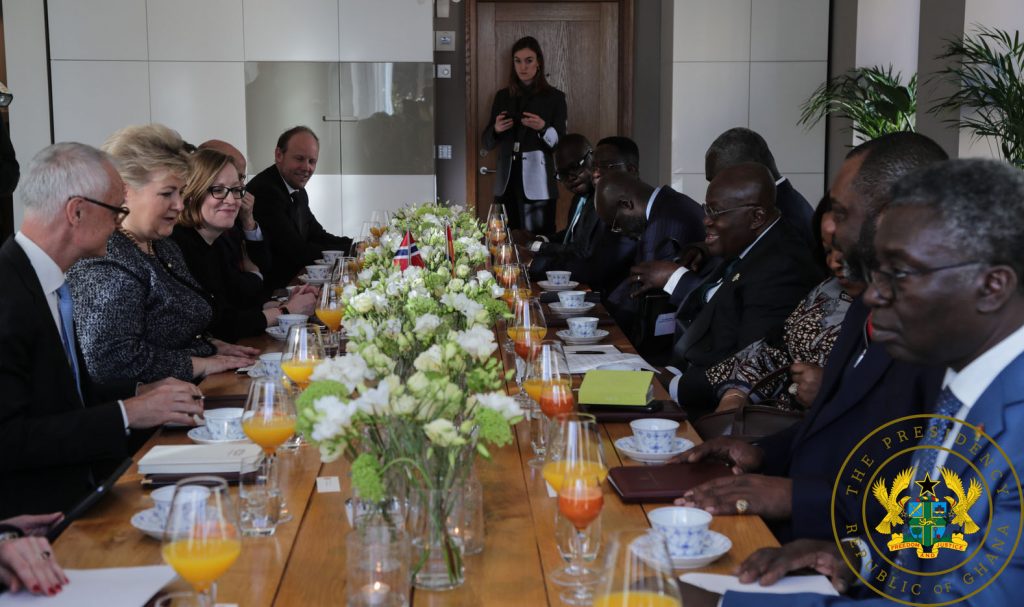 Sanitized banking sector
Continuing, the President said, "Today, we have a banking system that is much more fit for purpose than we've had in a very long time; well capitalized, very liquid, very solvent and capable now of being able to find money for the private sector to grow the economy of our economy."
That, according to him, was the reason why the Bank of Ghana was adjudged the best performing central bank in Africa this year by the Association of Bankers of the world.
Basis for re-election
"All these are signs that there are improvements and that is the basis on which I am going to the electorate to ask them 'four more for Nana'," he pointed out.
Free SHS
He also defended the introduction of the Free Senior High School policy and its accompanying double-track system.
"Instead of every year a 100,000 young men and women dropping out of the educational system at the level of JHS, not because they didn't have the brains or they didn't have the qualification to go further, but because their parents didn't have the means, that has stopped. We have moved from a secondary school population of 800,000 to 1.2 million today as we speak; this means that the 100,000 who were dropping out every year have now been captured in the system," he stressed.
Infrastructure
He gave an assurance that government was addressing the issue of infrastructure robustly, especially in secondary schools where dining rooms, classrooms, science laboratories and other facilities were being strengthened to contain the deficit. 
"Until we are able to deal with the infrastructure that would allow everybody to go in at the same time, we have to improvise, because the question then becomes if we don't have the double track, it means that some people have to stay at home," he said.
–Dailyguidenetwork.com