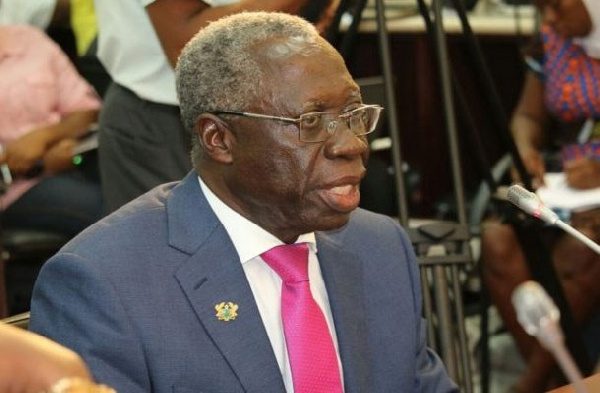 Senior Special Advisor to the President, Yaw Osafo-Maafo has described the 2022 Budget as the best the country has ever produced.
Speaking at the launch of the Ghana TVET Service on Tuesday, Mr. Osafo-Maafo attributed the government's 'YouthStart' initiative and the introduction of the e-levy as reasons for his comment.
According to him, Ghanaians must hail these two initiatives by the government since they are fundamentally good for the economy.
"Indeed this current budget is one of the best budgets this country has ever produced. Because there are two things in it, which are fundamental and these are some entrepreneurship training that we are putting as part of the responsibility of government to ensure that the youth is resourced financially to be entrepreneurial.
The introduction of the e-levy is extremely critical. These two things in this budget people must hail it. It is fundamentally good equipment. This underscores the relevance of entrepreneurship, the job-creation agenda. We need to move beyond that 'I want a job' mentality and embrace 'I am creating a job' for myself and others in entrepreneurship," Osafo-Maafo explained.
He further emphasised the need for the Ghana TVET Service to expand its training to cover entrepreneurship
"Therefore, Madam Director-General, permit me to challenge you to stretch your mandate from Technical and Vocational Education and Training (TVET) to Technical and Vocational, Entrepreneurship, Education and Training," he stated.
It would be recalled that during the presentation of the 2022 Budget on November 17, 2021, the government announced the 'YouthStart' initiative which will use GH¢1 billion to create 1 million jobs.
Under the new programme, the government will direct financial and technical support towards young entrepreneurs in the country to develop commercially viable businesses and create jobs for the youth.
"Mr. Speaker, this understanding of the youth employment challenge, as well as extensive consultations with stakeholders including youth associations and educational institutions across the country, have led to the development of the YouStart initiative which proposes to use GH¢1 billion to create 1 million jobs in partnership with the Finance Institutions and Development Partners," Ken Ofori-Atta said.
The Electronic Transaction levy was also proposed by the government.
The 1.75% rate will be applicable to all digital transactions and will be borne by the sender.
However, the Minority in Parliament together with some Policy Analysts have vehemently opposed the newly introduced levy stressing that it will worsen the economic hardship in the country.
Source : Myjoyonline